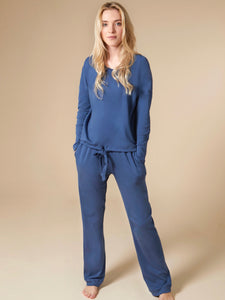 Steel Blue Pima Cotton Lounge Top & Trousers
Regular price $141.00 $96.00 Sale
The softest top in the most wonderful shade of steel blue which is flattering on all skin tones.
Made from our ultra soft pre-washed pima cotton, the finest and best quality cotton in the world. The weave of the fabric gives comfortable stretch and the quality of the cotton ensures it will stay looking good and keep you warm. Our long sleeve top was designed for relaxing with a boxy shape and bow draw string at the hem. Paired with trousers that have an elasticated waistband, side pockets and a turn-up finish on the leg. 

Fits true to size: XS (6-8), S (8-10), M (10-12) and XL leg option, L (12-14) and XL leg option, XL (14-16). The XS trousers come as a set with a S top.
SUSTAINABLE LUXURY:
A lot of love and attention to detail goes into making RO loungewear.
We use the best quality OEKO- TEX® certified pima cotton which guarantees it has been tested for harmful substances and also manufactured under sustainable working conditions.
Our pima cotton loungewear has been vigorously wash tested to ensure it stays looking nice. Pima cotton is unique compared to other cottons because it has extra-long staple fibres that give the pima cotton its premium properties: strength, softness and colour retention.